Ticketack has a complete management of delivery methods and costs.
The basic delivery methods available are :
virtual: delivery by e-mail
pickup: pickup on site (in one of the sales outlets or at a partner's)
delivery: delivery by a transporter
For each of these modes it is possible to define rules according to the weight, volume, dimensions of the objects and the price of the order. It is also possible to define several providers for a given type of delivery.
General settings for delivery modes
The general delivery settings are currently not directly modifiable by you.
contact us to change the details (rates, rules) on the available delivery methods.
Definition of available delivery methods per store
You have the possibility to define, for each store, the delivery methods available on this store.
To do so, go to your Kronos administration interface in "Stores" and modify the store(s) for which you want to redefine the available delivery methods.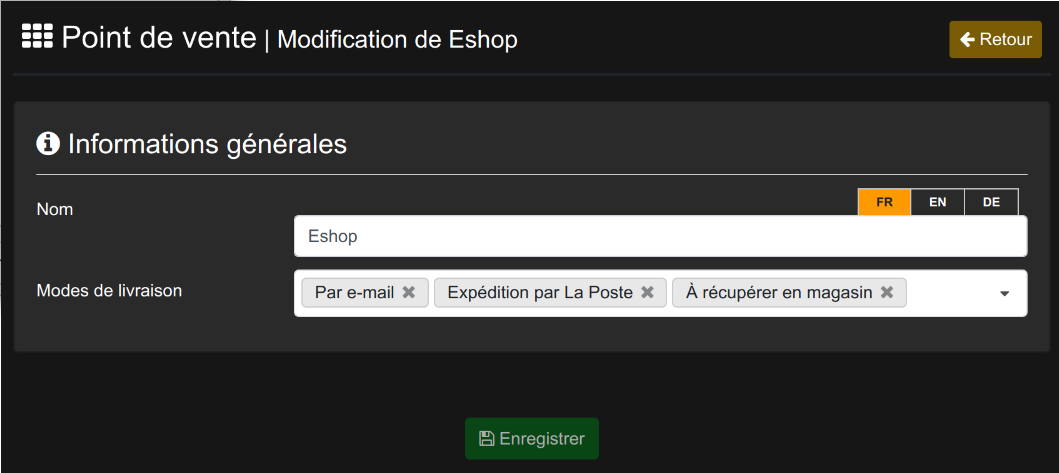 Definition of delivery options per article
For each article, you have the possibility to define one or more delivery methods available from your Kronos administration interface. The delivery methods actually available will be those that are both available for a given item and for the store where it is sold.
Once you have chosen a delivery method you have the possibility to enter the dimensions and weight (including packaging) of your item. These data are then taken into account by the delivery methods that depend on these parameters (generally the shipments).