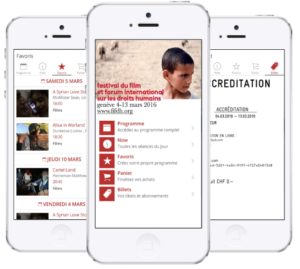 Ticketack now offers the possibility to get a personalized mobile application for your event. Discover the advantages for both, you and the user.
Available in the iOS and Android application stores under the event's name, the mobile application offers you an additional channel to gain sales and visibility. Sales statistics of the purchases done through the application are displayed on the management interface. Moreover, you will be able to send real-time notifications to your customers (in case of screening cancellations or changes in the schedule, for instance).
For the user, the application will not only allow to purchase of tickets and subscriptions but also manage the bookings and create a personalized program for the event.
Interested? Do not hesitate to contact the Ticketack team!